Boiler Servicing in Malvern
With a reputation spanning more than 15 years, and a fast growing residential and commercial client base, we hope you too will choose Jolliffe Plumbing & Heating Ltd for your domestic and commercial gas, heating and boiler servicing needs! Our engineers work with all boiler types from natural gas to LPG and Oil.
Boiler installation, servicing & maintenance
Annual boiler servicing and maintenance in Malvern and Worcester for all boiler types.
We cater for all aspects of domestic heating work from new build installations to upgrading an existing system as well as annual maintenance, emergency callouts and troubleshooting heating problems.
Design and installation of complete heating systems.
Upgrade and modernise your current heating system to make it more efficient.
Boiler upgrades.
Heating system upgrades.
Thermostatic radiator valve replacement and upgrades.
Powerflushing.
Boiler and gas fire servicing.
Landlord gas safety checks.
Heating breakdowns and repairs.
Underfloor heating design and installation.
Unvented hot water systems installed and serviced.
Natural Gas, LPG & Oil.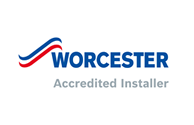 Powerflush
Over the lifetime of your central heating system, internal corrosion of parts produces a thick black sludge that contains iron oxide and lime scale. As this sludge builds up it causes blockages inside pipes and fills radiators, causing your boiler to work harder to heat your home, if left untreated this sludge can cause irreparable damage to your system and can even result in expensive repairs.
Having the heating system power flushed will remove this build up, allowing the water in your system to circulate freely, chemicals left in the system after a power flush also protect the system from future build ups.
Commercial Heating Servicing Worcestershire
Natural gas and LPG.
Wet central heating appliances.
Air heating.
Gas appliance and pipework commissioning and de-commissioning.
Gas pipework testing and purging.
Gas Safety certificates.